Shabbos Stimulus Package - 2 For the Price of One!!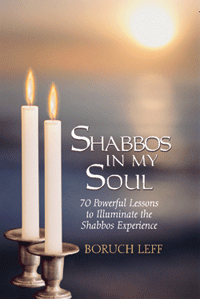 The 7th day of the week—the Sabbath—is designed to express our uniqueness as G-d's people. But do we really appreciate it?


How do we develop a Shabbos Attitude?


Why is inner silence the key to Shabbos growth?


What is the 'additional soul' of Shabbos?


How can I truly feel Shabbos in my soul?



All this and much much more is explained beautifully in a brand new book written by an author you have been reading for years at the Kol Yaakov column at aish.com.

"Learn about the significance of Shabbos in a manner that is light, entertaining, informative and, yes, fascinating." -Rabbi Paysach Krohn

"It is well written and well researched and will provide knowledge and inspiration to anyone wise enough to read this book."- Rabbi Berel Wein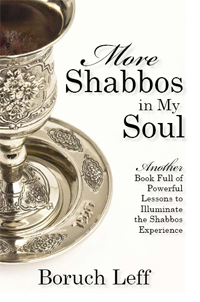 Shabbos in My Soul (Hardcover, 378 pages, Targum/Feldheim, 2007) is a remarkable book which just a short time ago took the Jewish world by storm and created a revolution among thousands of Jews wishing to spiritually energize their Shabbos.

More Shabbos in My Soul (Hardcover, 326 pages, Feldheim, 2008) is the second volume in this highly successful series and is sure to add even more spiritual power to your Shabbos.


• Find out why tasting Shabbos food is a great mitzvah!

• Discover how cutting your nails can be a mystical experience!

• Learn how to greet the Shabbos Queen with dancing and joy!

• Feel Shabbos in Your Soul!


"I am delighted that once again Rabbi Boruch Leff has provided us with a second volume of fascinating insights into the many facets of the holy day of Shabbos. Another well written and well researched book, it will provide wisdom and inspiration to all those who value spiritual growth."
Rabbi Berel Wein



"Once more, in this second volume, you are treated to great depth, meaning and insight for the Shabbos rituals in a way that is captivating and entertaining."
Rabbi Paysach Krohn




Order yours today, and receive an autographed copy from the author!



Free Shipping!